This is a Sponsored post written by me on behalf of White Cloud for SocialSpark. All opinions are 100% mine.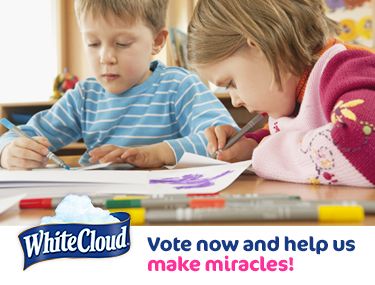 I love January for its fresh start, calendar changing and house un-decorating and cleaning.  Add in some snow (I'm being hopeful here!) and the whole month feels nearly as fresh and crisp as the peppermint patty I just stole from one of the kids.  (whoops)
People are cheerful and content in January.  Facebook is still blowing up with photos of family parties.  Some are even feeling extra blessed and extra generous. 
Right now, White Cloud is teaming up with Children's Miracle Network to create miracles in the lives of children receiving treatment in its 168 U.S. member hospitals. These kids have put their creativity and imaginations to work by illustrating a template that may become a new White Cloud Facial Tissue box design.
White Cloud Facebook fans can use the Voting App to vote for their favorites. Three winning designs will be printed on special edition White Cloud Facial Tissue boxes to be exclusively sold in Walmart stores starting in May. (Find a Store Near You!)  White Cloud will also make a generous donation to each of the Children's Miracle Network hospitals with winning designs.
Fans who vote for the designs will be offered a chance to enter into a sweepstakes. Three drawings will be held for $25 Walmart gift cards throughout the voting period and at the end of the voting period, three grand prize winners will be selected to win a one-year supply of White Cloud products. Fans can gain additional entries into the sweepstakes by sharing a link to the contest with their friends.
When three of our kids came down with the 5-day stomach plague at Christmas, Lance and I got through it with happy hearts knowing that it was only a stomach bug.  I cried for the moms and dads keeping vigil over their child's hospital bed, at Christmastime.  Oh my heart!  (And I'm sure it had nothing to do with going on little to no sleep…)
It costs you nothing, and could very well make a child's day.  Gather the kids around the computer and vote!
Abbreviated rules: No purchase necessary. Void where prohibited. The Children's Miracle Network Contest and Sweepstakes are sponsored by Kruger Products (USA), Inc. The Contest is open to legal residents of the 50 United States and the District of Columbia, between the ages of 4 and 14, who are eligible patients at one of the 168 participating Children's Miracle Network Hospitals. The entry period for the Contest begins on November 29, 2012 and ends on December 28, 2012. The Voter Sweepstakes is open to legal residents of the 50 United States and the District of Columbia, 18 years of age or older. The Voter Sweepstakes begin at 6:00 p.m.ET on January 3, 2013 and end at 11:59 p.m. ET on January 30, 2013. For official rules, visit http://mywhitecloud.com/tissue…