In the middle of a conversation with my aunt this afternoon, while dodging the volleyball that was being bumped around the kitchen by my three helpers, I opened the oven door to retrieve the fragrant Italian Herb Dough that had been rising for an hour.  Time for pizza assembly!
It was then, an instant before I saw it, that I realized I had turned the oven on to pre-heat… with the dough still in the oven, resting in my nicest, biggest Tupperware bowl. The very bowl that I rely on for all of my rising because it's the only one really big enough since I melted a bowl last summer… in the oven… making dough for my pizza braid…)
*sigh*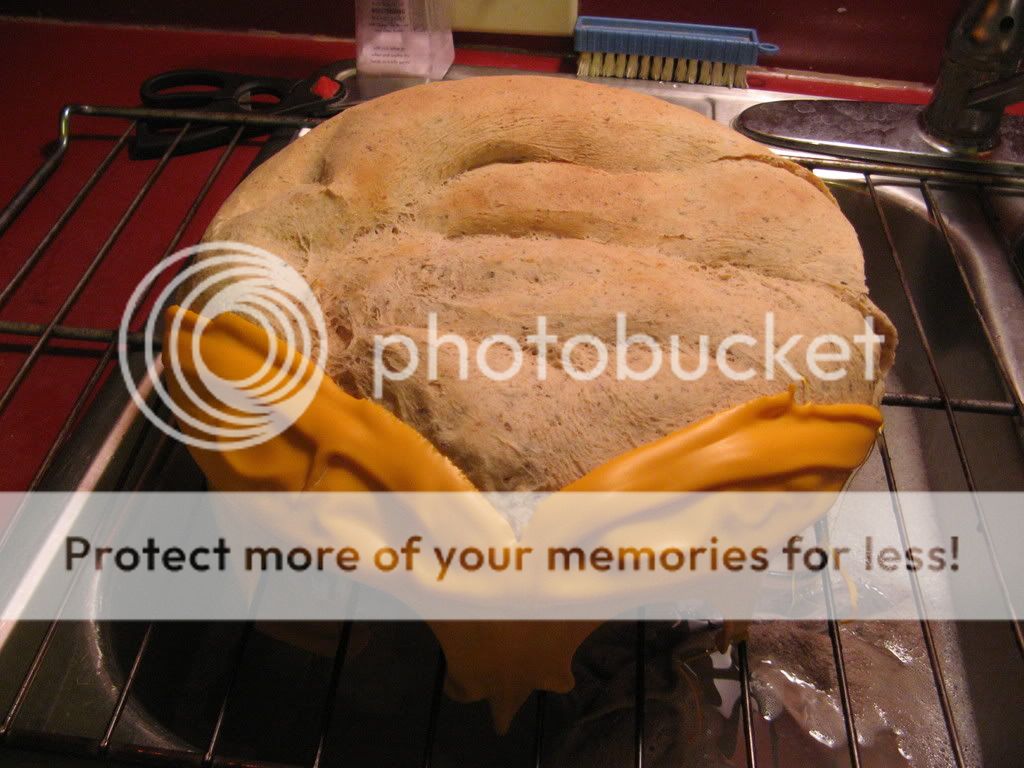 I truly cannot believe I am showing you this right on the heels of my potato explosion.  Where is my head, people?!?
Funny how my husband and children weren't any less hungry when we pulled this out of the oven.  I needed a plan, and I needed it fast!  Remember, we live 15 miles from the nearest fast food.  That's not an option.
Tonight's Plan B was spaghetti.  I honestly think I had a nice spaghetti dinner, complete with corn and toast from homemade bread, on the table in the same amount of time that it would have taken to assemble and bake the pizza.  This brought to light how glad I am that I tackle the stockpile, and pantry, and freezer on a regular basis. If not spaghetti, here are some other meals that I could have thrown together just as quickly with what we have on hand.
blueberry pancakes and scrambled eggs
bean and cheese burritos
smoothies and sandwiches
Tonight, my kitchen tip and tackle are one and the same.  Keep a pantry and freezer stocked with simple ingredients to make "Plan B" meals.  It will save you time, money, and unneeded stress. It also wouldn't hurt to keep handy a list of the meals you can make with what you have.  You just never know when your pizza dough will fuse with your melted Tupperware…
Don't forget to visit Tackle it Tuesday,  Kitchen Tip Tuesday, and Blissfully Domestic.