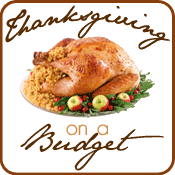 Let's talk turkey.
I need a show of hands.  Growing up, I thought the only people who placed a beautifully roasted bird on their table were the Huxtables.  Seriously.  Do real families do that?!  Do you?  (I couldn't find the clip of the actual bird, but here's a look at Theo's practice round.)
Perhaps it's because I've never attended a Thanksgiving dinner with fewer than 20 people, and the norm is more like 30-50, but we have never placed a bird on the table.
Here's how my family does the turkey, and I know we're not the only ones!
We bake and carve it ahead of time.
There you have it.  That's it!
Brine it, stuff it, roast it, deep-fry it… whatever suits your holiday fancy (we just pat with butter and sprinkle salt and pepper – cover with foil and bake on a low temperature until done).  Just do it before Thanksgiving. After it's cooked and cooled, go ahead and carve the bird.
Place the meat in a pan.  Put a few pats of butter on it and a drizzle of turkey broth.  Stick it in the fridge for a day or two.  Warm in the oven (or an electric roaster) before serving on Thanksgiving Day.
Cooking the turkey ahead of time is a super simple concept with far-reaching benefits.
No waiting on the "late" bird when everyone is starving.
Delicious, moist, flavorful meat because it's been distributing and soaking up juices for a while.
No staring at a bird carcass during your lovely meal.
No carcass mess or fuss on Thanksgiving day.
The juices can be cooled, fat skimmed, and gravy made up… all ahead of time!  Put the gravy in a crockpot to warm before the meal.
Your oven can be used for other dishes on the big day.
So easy to serve.  If you serve from the table, just put the meat on a lovely platter with a big, fancy fork.
Did I mention that your dinner won't have to wait on the bird?!
Shred some of the dark meat to use in your stuffing.  Yum!  (Provided, of course, that you don't do your stuffing in the actual bird.  I've never done that.)
No stressing about timing everything just right, because the turkey is already done.
No last minute panic when the turkey doesn't come out right.  You'll know days in advance if adjustments need to be made.
If you eat your Thanksgiving meal at noon, you don't have to put a bird in the oven at 4 a.m.
I totally respect (and admire your beautiful pictures) those of you who have a decked-out Thanksgiving table, complete with a beautifully roasted bird.  If that's your tradition and it works for you, by all means, go for it!
As for the rest of you, nix the holiday stress and cook your bird early!
Now, for that show of hands, how do you do your bird?
This post is linked to