This is a Sponsored post written by me on behalf of American Frozen Foods Institute and the Frozen Food Roundtable for SocialSpark. All opinions are 100% mine.
"What is all this?!" she asked with a mixture of disbelief and hopefulness. I laughed at her expression, pondering box upon box of frozen foods normally foreign to our kitchen.
"Yes, it's for us. Yes, you get to eat it. Yes, even that." (I don't remember what that was, but it was all for us, so whatever.) After the baby comes. (Side note: I unpacked my haul, purchased with free coupons, approximately 8 hours before labor started. Timing is everything!)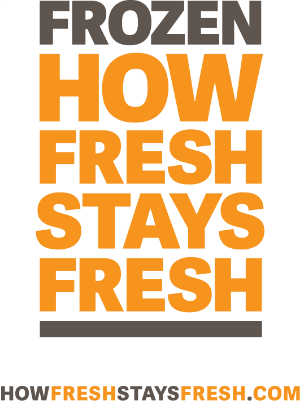 You'll never catch me arguing the benefits of frozen foods. We are blessed with two refrigerator freezers and a chest freezer, each one consistently saving me time and money as I stash double and triple batches of muffins and meals, and almost always have bulk beef, pork, and chicken at the ready. Frozen food for the win!
In my freezers before the baby arrived:
several dozen bags of muffins, making breakfast super easy even when mom sleeps in with the baby (one of our favorites)
tater tot casserole (X2, but we caved and ate one a couple weeks before the baby arrived
cavatini (X2, but um… we also ate one of those before the baby arrived ~ totally her fault, we thought she'd be here nearly 2 weeks earlier! 😉 )
chicken spaghetti
3 dozen brown bag burritos
3 dozen pigs in a blanket (ummm, well… we tore into some of those, too)
As excited as I was to be fairly well stocked for the babymoon, I also knew it would be fun for the whole family to have some frozen convenience foods handy when we're all bleary-eyed with the transition. Here's what we've tried:
Jimmy Dean's Pancake and Sausage on a Stick
Thumbs up! Actually, the kids ate these again this morning on our way to Miss 11's basketball tournament. I love the portability, because getting six kids out the door by 8:00 a.m.? Well, it's super handy to have something to eat on the road.
Speaking of eating on the road… I am totally out of practice with this nursing a newborn thing. I forget just how.much.time. it takes, and that I need to add in an extra hour of prep to get out the door. Last week when I was headed out the door late and an hour past lunchtime and still hadn't eaten anything myself, I grabbed a frozen French Bread Pizza from Stouffer's. There were two of them in the box and I totally regretted leaving one for my husband. Ha! Mine was really good and I wanted more! The french bread crust crisped up nicely and was easy to eat while I was driving.
So what did the family eat while I was on the road? Mr. 8 had everything under control. A budding chef, he did admit that he would rather "cook than just heat things up" (<———- I love that kid!) but for lunch that day they had a little appetizer party with some Bagel Bites, Chik'n Nuggets from MorningStar Farms, and Delimex Rolled Tacos. Party on, kids! (Side note: We were giggling because the Chik'n Nuggets were veggie nuggets and the kids had absolutely no idea.)
We could chat about the merits of fresh vs frozen and homemade vs convenience, and I'll be the first one to tell you that I prefer to make my own food when I can. Do frozen convenience foods scare me? Nah. Especially when it looks like this.
Friends, if you have never enjoyed a slice of Edward's Key Lime Pie, may I suggest that you do that. Like, now. I'm a fairly confident cook, and I love to bake and make desserts, but I can't do better than this. Oh my yum! THIS is what they mean by Frozen. How Fresh Stays Fresh. Absolutely perfect date night in treat, but don't tell my husband that two slices come in the box. I enjoyed the first slice on my own the other night while he had the kids at the county carnival, and I'm just not sure he needs to know about the other slice hidden in the freezer…
Freezing is how fresh food stays fresh. Freezing naturally pauses inspired recipes made with fresh, quality ingredients and suspends them there until the moment you're ready to enjoy them, locking in freshness, flavor and nutrients. It's been a long time since I've stocked up on frozen convenience foods (I used to buy them all the time when I was single) and it's been fun to revisit some of my guilty pleasures with my family. I might even let them try my Toaster Strudels. 😉
Do you enjoy any guilty pleasure foods from the frozen foods aisle? What are your favorites? I'm always up for trying something new!