This is a Sponsored post written by me on behalf of Gro-ables for SocialSpark. All opinions are 100% mine.
Ok, I know some of you are still buried in snow. We're actually still buried in remodeling madness here, but I've decided that every season is growing season.
Currently I'm growing a baby (which I seem to be much better at that than growing house plants, thank goodness), growing patience (we've been at this epic home improvement thing for 3 1/2 months now), growing a sense of humor (after purchasing paint that has a slight pink tint and bargain "white" appliances from Craigslist that ended up being "biscuit" and not white) and the list goes on.
My past gardening escapades have been mostly successful thanks to the help of my co-gardening neighbors, but one thing I've completely given up on is starting plants indoors from seed.
Until now.
Miracle-Gro Gro-ables are "guaranteed to grow, when used as directed." I can follow directions, right? Surely.
Gro-ables is a brand new product from Miracle-Gro – a pre-packaged seed pod that makes it incredibly easy to grow your own herbs and veggies from seed. It's designed for the younger consumer, or people who are new to gardening but have always wanted to try growing their own food. The seed pods are designed to simplify the growing process so it's not overwhelming or confusing. Focus should be on edible gardening – easily growing your own herbs or veggies in your own home/apartment, and turning those homegrown ingredients into homemade meals.
I don't want to go too crazy with the gardening this year since baby #6 should make an appearance by mid-July, but I have five other children who get a kick out of picking and eating their own veggies, so we'll definitely plant our favorites and maybe some new-to-us eatables.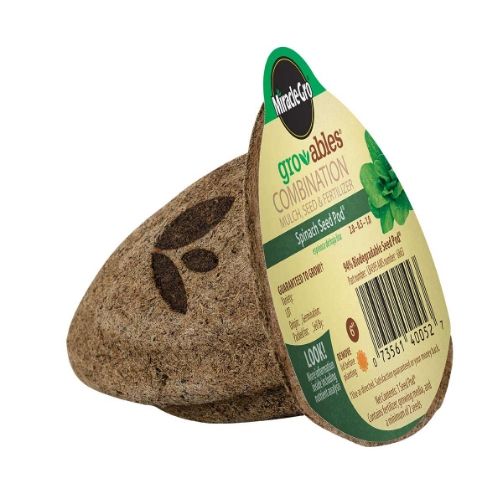 It doesn't look like much in the photo, but that's the beauty of it! "Indoors or out, just plant your Seed Pods, water, and enjoy!" We're going to start our seeds on our big south egress window in the basement. It gets lots of light and is high enough to be out of reach of my littlest helpers (until they pull up a chair, of course).
Of Gro-ables 17 varieties, I think I'm most excited about the spinach, sweet peppers, and cherry tomatoes. (I feel some new summer salad recipes coming on!) My kids will be thrilled about the jack-o-lantern pumpkins!
Confess: How many of you are pining for the fresh foods of summer? Do you grow your own? What are you most looking forward to? (Me? A BLT with freshly grown, salted tomato. YUM!)