This is a sponsored post written by me on behalf of Similac® StrongMoms® for IZEA. All opinions are 100% mine.
My friend Connie had me simultaneously giggling and cringing this morning.
I was a Creative Memories Consultant when our first baby was born. (Oh, the irony.) She has 3 full-size (12×12) baby books, complete with brightly colored calender pages noting important milestones (first time mama made her bleed while trimming fingernails, the day we snipped the end of the pacifier after she yelled for it in church at 19 months…) and coordinating stickers. I dutifully took at least one "baby bump" photo per month with her, recording the exact weeks (and likely days. If only I knew where we put those books during the basement project!)
Baby two has one full album, still with calender pages. Whoop!
Baby three has 5 completed scrapbook pages that we wrapped up for her third Christmas, because she was asking.
Baby four received a Shutterfly album summarizing his first year, when he turned two.
Babies five and six share their lives on my phone. Example:
(My Creative Memories scrapbooking supplies, you ask? Currently tripping over containers of them in my bedroom. Wish I was kidding.)
If you were looking for advice on HOW to capture memories and make them last a lifetime while raising a large, busy family, you can go ahead and click away (clearly!), but if you want a chance at a fun Strong Moms Giveaway giveaway, keep reading!
Make your Memories last a lifetime with the "Capturing Memories from Bump to Baby Giveaway."
You could win the GRAND PRIZE Gift pack worth over $15,000. Plus play the instant win game for a chance to win one of our instant win prizes each day*.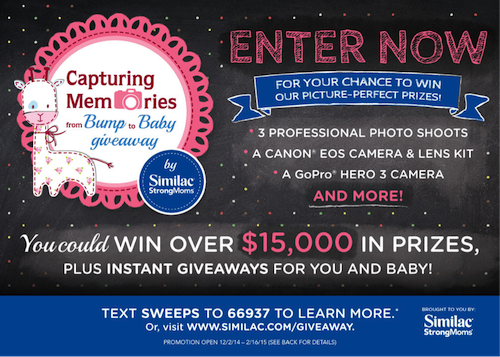 Grand Prize includes:
3 Professional Photo Shoots
Canon® EOS Camera and Lens Kit
A GoPro® Hero 3 Camera
A 13-inch MacBook
Adobe Photoshop® Elements 12 and Adobe Premiere® Elements 12
Beginnings Baby Record Book
$500 Shutterfly® Gift Card
$500 Pickles & Ice Cream® Gift Cards
Medela® Pump in Style Breast Pump
A What to Expect When You're Expecting® Book Set
Instant Win Prizes: Mom can play the instant win game once a day for a chance to win one of the fabulous instant win prizes below. Over 300 lucky moms will win instantly.
Similac® Prenatal Vitamins
Similac® for Supplementation Formula
Shutterfly® Gift Cards
Snoogle® Full Body Pillows
Beginnings Baby Record Book
Medela® Pump in Style Breast Pump
A What to Expect When You're Expecting® Book Set
I would keel over if one of my readers won this awesome prize!
But, Amy. You're a breastfeeding mom. Yes! You are correct! Not a drop of formula has touched any of my babies. And does that make me a better mom than a formula-feeding-for-whatever-reason mom? NO. It most certainly does not. (A diehard? Maybe. Determined to do what works best for my family? You bet'cha.) Also? This. Sisterhood. Now go win yourself some fun memory making stuff for your next baby!
Here are the rules